Outdoor Faucet Repair Service
Outdoor Faucet Repair Services
Outdoor faucet leaking from the freezing temperatures? After the freezing temperatures problems can occur when using the outdoor faucet. Custom Services in Tulsa, OK can help. We offer professional heating, air conditioning, and plumber repair services.  Whether its repairing the outdoor faucet or replacing the outdoor faucet it, Custom Services plumbers can provide the right solution for your plumbing needs. Call us today 918.622.8686 or visit www.customservices-inc.com.
Outdoor Faucet Plumbing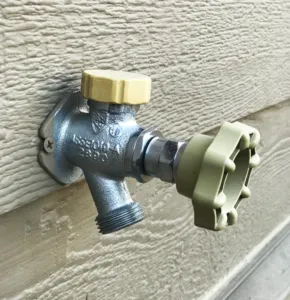 When outdoor faucets or spigots develop a leak, it can cause some issues for property owners, which is why it's so important to solve the problem immediately, rather than putting it off, even if it's just a drip. Custom Services plumbers are licensed, uniformed, plumbing and drain professionals. And we are available 24 hours a day, seven days a week to help with emergency residential and commercial plumbing issues, so schedule a service as soon as you notice a leak. Call Us 918.622.8686 or 918.258.8686
Our Plumbing Services Include:
Broken, cracked, offset or collapsed pipe
Blockage
Corrosion
Bellied pipe
Leaking joints
Root in sewer line
Off-grade pipe
Our licensed and trusted plumbing professionals can solve all your sewer line repair and replacement problems by using the state-of-the-art equipment and technologies. Custom Services specializes in providing fast, high-quality sewer service in Greater Tulsa and Greater Oklahoma City. We offer complete drain cleaning and sewer services 24 hours a day, 365 days a year.